I haven't been wine tasting in Temecula for 10+ years. Ramona has been my local wine region of choice and I enjoy it every time. Ramona wineries are chill and unpretentious. They have that approachable family vibe that Temecula did in the early 90's.
Met with friends at Turtle Rock Ridge Winery and Vineyard for a wonderful and relaxing late afternoon. (I'm not reviewing this place, just telling a story.) Now…I don't usually do sangria, but it was hot, so I did. Such a good decision; so damn good. It's a berry sangria that is balanced and illegally refreshing. Wha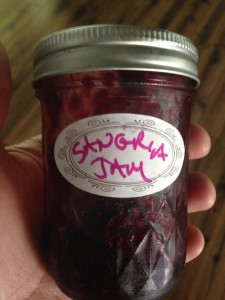 t's better? How about Sangria Jam made from the wine soaked berries that get strained from the sangria. I'm not exaggerating when I say this is the best jam since the first time anyone has made jam…ever. I've tried to be patient and use it for fancy desserts, or souped up PB and J's, but I never get passed maowing it by the spoonful.
Turtle Rock has followed suit in the growing trend of breweries and wineries allowing tasting in a family friendly environment. Parents get to relax with a glass and kids get to tweak out on legos and root beer; but without it being a restaurant. For that, we went to Jeremy's On The Hill. Along with it being our friends favorite restaurant, it was nice to eat somewhere in East County that could be in North Park or Little Italy. Fresh, local, real food from people that love families and community.