Last week I cooked for two bachelorette parties in Mission beach and one epic bachelor party for 17 hungry dudes. The boys had a big rental house in La Jolla and were pumped for a big weekend. Most of them came from the East coast so I made sure to throw a little San Diego swerve their way with the corn and watermelon. These boys were ready for a big weekend of fun and their energy about being together on a San Diego vacation was electric and contagious. I cooked for them on they're first night to kick things off…it went well. I don't do wedge salads, but I felt justified with the play on Mexican corn.
Apps:
Twice baked potatoes with garlic chives, Gouda and truffle oil
Lamb Spanish meatballs
Chili lime pickled watermelon
Umami bomb-mushroom and roasted garlic stuffed Worcestershire, soy marinated grilled steak
Dinner:
Mexican corn wedge salad
Butter poached radish, blanched celery and herb salad aside grilled kabocha squash
Roasted salmon/ brown butter vinaigrette/roasted root veggie mash
Gluten free chocolate torte, banana whipped cream, almond brittle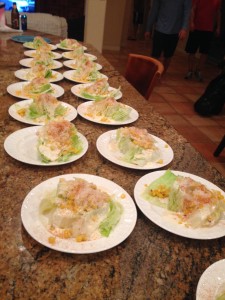 Recipe For Mexican Wedge
1c Mexican crema
1/4c mayonaise
2-3T lime juice
1tsp kosher salt
1T minced red chile (fresno or arbol)
Grilled corn, kernals removed and salted
Iceberg lettuce, wedged
Queso seco or parmesan cheese
Hot chile powder
Whisk first 5 ingredients and season to taste; thin with milk if needed. *Dressing should be thick like blue cheese dressing. Plate the wedge, top with dressing and layer the corn, cheese and chile powder over the top.