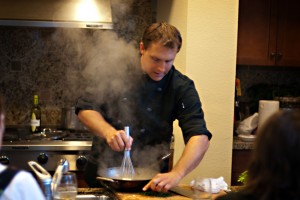 For parties requiring delicious, innovative food, or cooking classes that are fun and informative, I'm your man.
I arrive on time with all necessary tools and groceries. I cook, serve, and clean; leaving you to do nothing but enjoy yourself….and set the table. My goal is to leave you happy, full and with no clean up. Check out Yelp for further encouragement.
While dinner parties are magical; private classes large or small, are a great way to receive a ton of information and still feel like you've thrown a party. Some classes are very hands-on and active. Other classes only have your hands occupying a glass of wine. Team building parties are always a hoot as well.