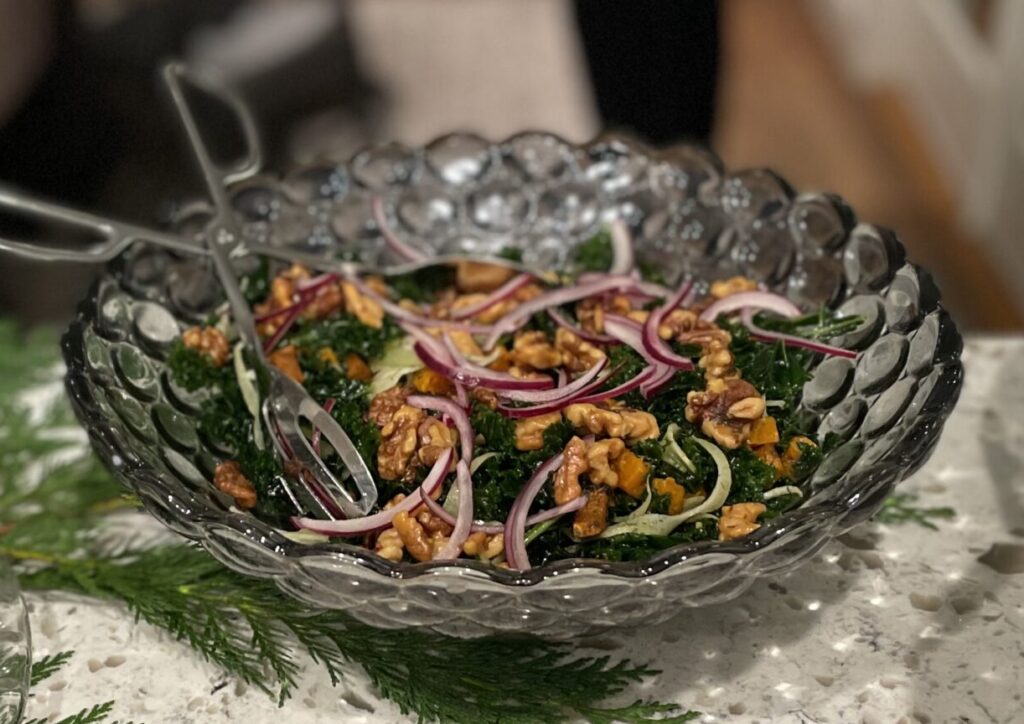 Eating salad should be done on any day ending in day; but Sunday salad just sounded right.
I'm not not going to extol the nutritional benefits of eating salad.  If you don't think eating vegetables as often as possible is a healthy way to live, then I got nothin' for ya.  But I do know it's hard sometimes. We all crave the easy stuff when we're tired and hungry.  Like all good cooking, there's a little effort needed to make something wonderful, and as always, pre-planning will smooth out the process.  Here are three salad dressing recipes.  The vinaigrette will be your workhorse, and making a cup or two at time will make future salads lickety split.
Vinaigrette:
1/4c red wine vinegar
1/2c extra virgin olive oil
1/2tsp dijon mustard *optional
1tsp honey (optional)
1/2tsp kosher salt
1/4tsp fresh ground black pepper
Place everything in a jar and shake. Use as needed.
*Notes–You can use any acid, any oil, any mustard, any sweetener, any salt and any pepper you want. A couple shots of Worcestershire are great too. Feel free to add minced garlic, or shallot, fresh or dried herbs or a small pinch of nutmeg, cinnamon or allspice. Don't have a jar? Use a blender, food processor or a bowl and whisk. Or…toss everything into the salad except the oil. Once everything is in, toss in the oil.
Caesar:
1 clove garlic
2tsp Thai fish sauce or 1 anchovy filet
2T fresh lemon juice
1/16tsp fresh black pepper
1/4 tsp kosher salt
1 egg yolk
2T finely grated parmigiano reggiano
2-3tsp mayonnaise
2T extra virgin olive oil
1/2c neutral oil, (avocado or grapeseed)
Peel and cut garlic in half. Puree in a blender with 2T of the olive oil and everything else. With the machine running, pour in the remaining olive oil. Season to taste and add more oil if too thin.
*Notes–No blender? Use a food processor or bowl and whisk. If bowl and whisk is your method; whisk everything together sans the oil. Start whisking in the oil in a very thin stream or just a small splash at a time (1tsp). Avocado oil is easily replaceable for the olive. You must use fresh garlic, fresh lemon juice and the best parmesan you can afford or procure. The mayo helps emulsify and adds creaminess.
Ranch:
2T fresh lime juice
1c sour cream
1/2c mayonnaise
1/3c milk
1tsp minced fresh parsley or 1/2tsp dried
1tsp grated onion or minced chives
1/2tsp minced garlic
1/2tsp salt
1/4tsp fresh black pepper
Whisk everything and let sit 15 minutes
*Notes–Add milk for desired texture and feel free to use cream, half 'n half, or buttermilk. The higher fat the richer the flavor. Go easy on the raw onion and garlic, their intensity will build over time.