What is your goal when you eat a salad? Why are you eating it? Obligation, pleasure…somewhere in the middle?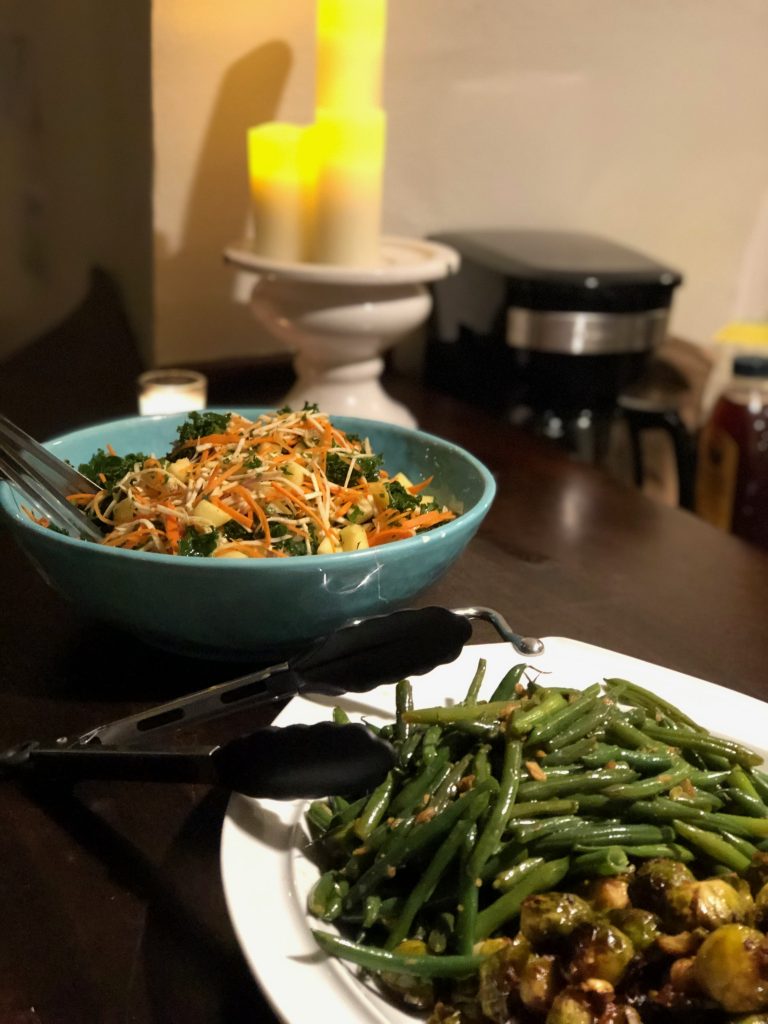 For me…I enjoy cool fresh crunch and the feeling of consuming health. I've always had a confidence with salads and see them as an opportunity to enjoy food, not put up with it. It can be simple or complex but it needs to be thought about or cared for as much as the roast in the oven.
If you can make a well seasoned dressing, then all you need is some stuff in a bowl. Lettuce, canned beans, nuts, cheese, herbs. Thinly sliced or shredded raw veggies like roots, cabbage or peppers. Fresh or dried fruits are great as is diced or julienned apple. Rice! Rice is rad in salad.
There are no rules for a good salad, but there are some things to keep in mind for success. Some things need more dressing and time then others. For example. Most salads are best when everything is tossed just before service, like Caesar. Some salads need time, like kale.
Kale salad is not hard but it has a few rules and is a great example of needing to structurally break down. Confidently work the kale with dressing. Oil, acid and salt break down tough greens but it has to be worked in. You will always want some sweetness with any bitter green; kale, arugula, endive all need a little sweetness. I also like to add a little garlic in with kale. Even if you're thinking sweet, those flavors are needed balance.
Kale Salad:
2 bunches kale, washed and large ribs torn away
1 clove garlic, minced
1T honey
salt and pepper
4T lemon juice
2T virgin olive oil
1/3c slivered almonds, toasted
½ small red onion, thinly sliced
1 fuji apple, peeled and diced small
¼c raisins, dries cranberries or cherries
½c shaved parmesan, for garnish
Tear up the kale and toss with garlic lemon, salt and pepper, olive oil and honey. Massage a couple minutes then let sit for a bit. Work again until soft, then toss in the remaining ingredients, season to taste and garnish with parmesan.
Be Interesting…
Celery root and carrots are similar: Peel and julienne; toss with a little salt, oil and acid (lemon juice). Let sit and toss again, the texture should be noodley. Keep these macerating items separate until go time, or they'll bleed too much liquid, which should be drained. Add this to the kale salad for lovely results.
Think about each ingredient and bite. Think of how the end product will come together in your mouth. Let's say broccoli salad…are you going to blanch the broccoli? If yes; don't over cook it and give it time to drip dry afterwards. If not, it's raw state needs to have a lot of rich dressing and it'll need to be chopped up but not obliterated. Both of these questions for broccoli salad are important because the decision and execution of either step, sets the stage for what's next. And what's next is texture and dressing. Some toasted nuts, raisins and diced celery cover texture. Dressing could be grapeseed oil, lemon juice, lime juice, red wine vinegar, honey, salt and pepper and chives. Sneaking in more health at the end is nice as long as is stays crunchy, a little endive or esocarole works.
See…it's easy.