We have lots of lemons as you can see…they come from our lemon tree.
The harvest becomes especially large when my wife gets jiggy with the tree trimmer. We're left with a big ol' pile, more than we'll use for simple cooking and cleaning needs. Also, we don't love the constant sugar influx that all the lemonade brings. Well, back to all those lemons…what to do, what to do?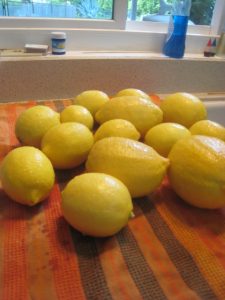 We thought it'd be fun to make limonocello, like the kind my mom brought back from Italy. But, we don't love our liquor sugary, so we went with a simple answer…lemon vodka.
Our method was highly scientific, involving the strenuous task of peeling 10 lemons and adding it to vodka…hope you were able to follow all of that. After we added the rinds we let it soak for a day. Plenty of lemon flavor after one day, but we'll let the other handle go a couple more. My guess is it'll get more lemony…gigitty.
If it's too lemony, I'll take it upon myself to finish the handle alone; thereby saving those I know and love from unnecessary pucker.
Very Complicated Recipe