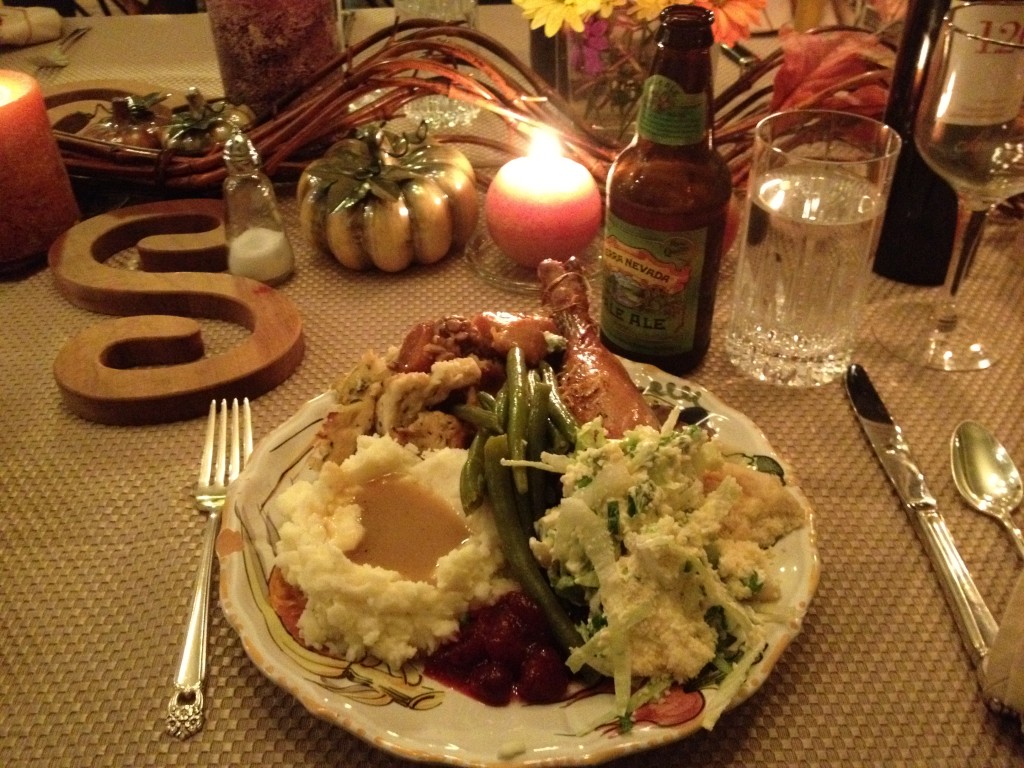 Loving or at least liking the holidays can take some practice.  At times it's draining with all the pressures of shopping and not having enough time for anything.  Don't get me started on people being F'ing nuts in the parking lots and on the roads.  But what if there were no holiday season?  What the hell would we do to take up our time in these early winter months?  The only thing that pulls us out of the house during these colder months tends to have something to do with the holidays.  Thank goodness it's automatically on all our calendars.  Otherwise, the scheduling conflicts to get everyone together would deem it impossible.
These are also the food focused holidays where rationality and good decisions give way to gluttony.  Which is great timing right before the new year; you get a clean slate, which is just great.   There was actually a study done at Harvard a few years ago that proved all caloric intake between Thanksgiving and New Years gets wiped away like it never happened on January 2nd.  It's true…I would never make something like that up.
So, with all the food, there are usually leftovers.  Leftovers are great in almost any form and are quite a constant in this house.  For post Thanksgiving breakfast, there was enough to make some ridiculously good potato turkey cakes with gravy and a fried egg.  Here is the recipe:
Turkey Potato Cakes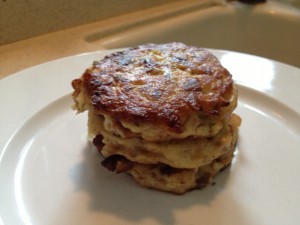 1 ¼c chopped turkey
2T butter or olive oil
2c mashed potatoes
1 egg
2T flour
2T butter and 2T olive oil
½c gravy
4 fried eggs
Heat a sauté pan over medium high heat until hot. Add the turkey and 2T butter or olive oil. Cook until turkey is crispy. Scrape into a bowl and stir in the potatoes, egg and flour. Form 6-8 pancakes and fry until brown on both sides with the butter and olive oil. (Adding oil to your butter when it cooks helps the milk solids not burn). Pre-heat the oven to 350 before you start just in case you want to bake the pancakes for a few minutes to finish them off.  Serve with gravy and a fried egg for extra pleasure.
By the way, if you're hosting a holiday dinner and you tend to flip out, cool…flip out.  Just don't flip out on the day of.  Light some candles, dim the lights, get everyone a drink and make sure to cook up some kick ass gravy.  The rest is up to the spirit of the season.  Here is a gravy recipe that will melt minds and souls.
Gravy
turkey neck, giblets and heart…no liver
1 carrot, peeled and chopped
1 onion, peeled and quartered
2 ribs celery, chopped
2qt water.
1 bay leaf
2c sliced shallots
10 cloves garlic sliced
4T flour
1c brandy *optional
1T chopped thyme
1T chopped parsley
1/4-1/2c unsalted butter, diced
After the turkey is in the oven, combine the first 6 ingredients in a large pot. Bring it to a boil then turn down to a low simmer for 2 hours, skimming any foam as it rises. Strain the broth and chop the giblets and heart. You should be left with 4-5c of broth.
After the the turkey is done, remove it from the roasting pan and drain all but 3T of fat from the turkey roasting pan. Add the shallots to caramelize with a pinch of salt and some fresh pepper. Once browned add the garlic to sweat and cook through. Add the flour and stir about a minute, then deglaze with the brandy. Stir another minute and whisk in the broth one cup at a time. Add the herbs and let simmer for 10 minutes whisking a bit every other minute. Turn off heat and vigorously whisk in the butter. Taste for seasoning and strain everything off.