Well…it should be at.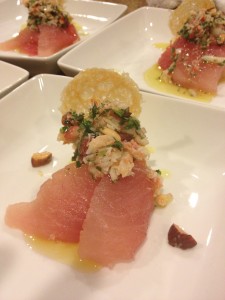 I have two rules for fish; if you follow them you will win.
How to
Step One: Procure fresh fish. Fish should smell like the ocean…not dead fish. Find a good fish market and be a good customer like I am for Blue Water in San Diego.
Step two: Don't over cook it! You paid sweet moolah for that fresh fish, now don't kill it.
Broiling fish is a wonderful and easy way to cook fish if you don't need a crust. It's not only quick, but it's quick clean up as well, and the fish wont stick to the pan. Here's a recipe:
6 fresh fish fillets
1/4c Sambal Olek
1/4c honey
1tsp cornstarch
1tsp water
1tsp salt
Preheat broiler on high and position oven rack to the top. Whisk together the water and cornstarch, then whisk in remaining ingredients. Place the fish on an oiled sheet pan and top with the glaze. Broil until the fish is cooked and the glaze is browned, 5-7 minutes. If glaze begins to burn, turn off broiler and let sit in the hot oven for a couple minutes.
This recipe has a glaze, but you can do anything. Season with salt and pepper, a little butter or olive oil and your good. Want to throw on some spice or herb? DO IT…do it.
Also; don't feel the pressure to cook your fish. If you're paying $20-$30lb for fresh Ahi, Albacore or Salmon, just slice it up and make a dipping sauce.
Here's a recipe:
1/2c soy sauce
1/4c rice vinegar
2T sugar
1T of anything (ginger, chile, green onion, sesame seeds, garlic, lemon grass, herbs, toasted coriander…whatever)
Whisk and let sit a few minutes to marry flavors and dissolve the sugar.