Another year and and another Super Bowl party. This year we are starting a new tradition for Super Bowl. From hence forth, Super Bowl Sunday will feature an earthly creature of unknown taste and texture. To start off this soon-to-be tradition, I give you Suckling pig.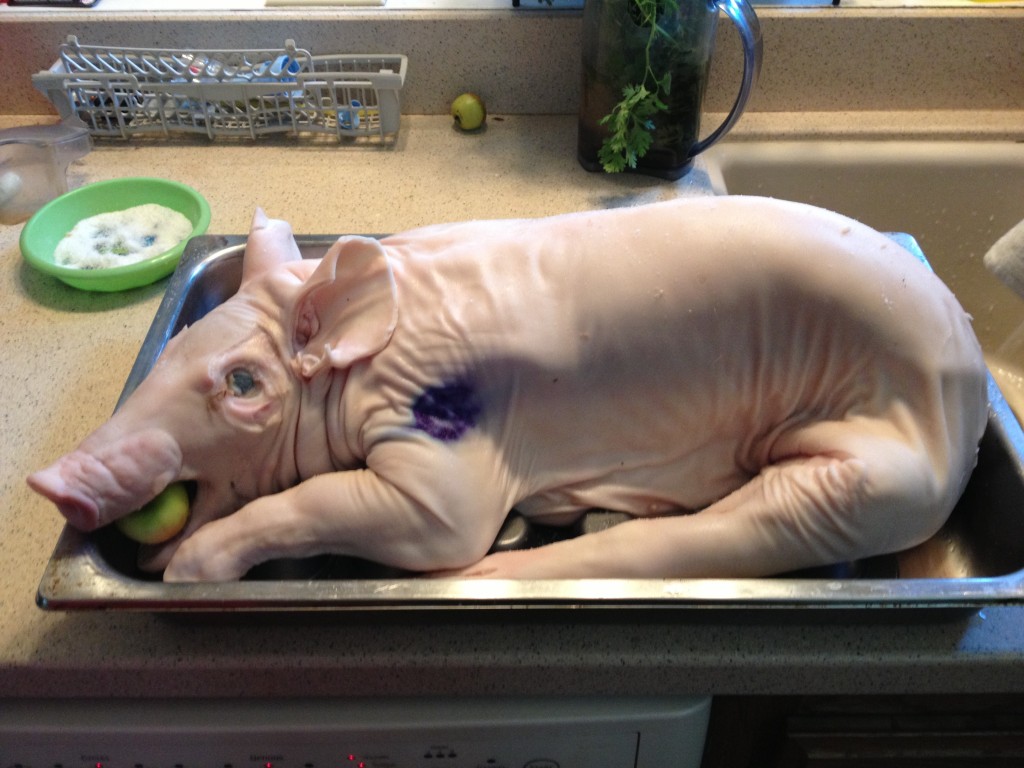 This of course being my first time eating and preparing it, I wanted to taste the pig as true, simple and unadulterated as possible. I decided to roast it straight up with just some kosher salt in a 350 degree oven for 4 hours. I made a couple mistakes but overall it went according to plan.
It was decadently moist and the skin was crispy. Texturally it was out of this friggin' world. Being a collagen, fat and gelatin freak, this was heaven. The flavor wasn't bad, it was just a bit boring. I thought it would taste mellower then adult pork, but it's "milky" quality, was actually more pronounced then expected. But still a flavor no one could really put their finger on. "I recognize I'm eating pork, but it's different."
Served with
We served it with an wonderful market salad and sticky rice. I'm glad I tasted it as is, now my mind is bursting with ideas to make it epic since the texture is so easy to achieve. Next time I'll brine and cook with aromatics, then add sweetness to the crispy skin. It was a really cool experience though…I dove straight into the head. Cheeks, ear, jowl, tongue, brain and snout. I wanted the parts of the animal that stores don't carry. Everything was great except the brain. The sticky fatty texture was fine, but I can't seem to enjoy anything tasting like offal…the irony, mineral quality is not something I've learned to enjoy :-|
Getting the thing
To procure said piglet, I wanted local but failed and found it online at Exotic Meat Markets. After hemming and hawing on the price ($160 + $35 shipping), I ordered it Monday, shipped on Thursday, arrived Friday and unbeknownst to me…sat on my porch for 3-4 hours :-( We cooked it before the game on Sunday so we were free to focus on the game. Of course that was a mistake as the game was a snoozer…unless you're a Seahawk fan. Still, a great day with family, friends, food and football.