As you probably know, I do mostly small parties.  Occasionally a big party rolls by and I need some help.  For that, I go to my long time friend and cohort, Gina Bishop.  She brought me in on a party recently that was an 80 person luau themed buffet with hors d'oeuvres.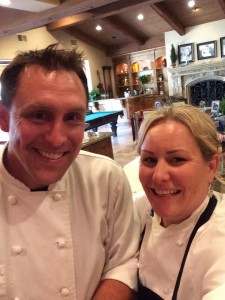 We had a blast and worked our tuchus' off, which is always a great combination for good food.  Our styles and skill sets are almost opposite, but we are on the same page with flavor. Here is the menu we did for that party.  Everything was perfect.
Passed Appetizers:
Sweet potato maki with Mango/cucumber/ sweet soy  Spicy Toro with wasabi oil on taro chip
Teriyaki chicken satay/ coconut peanut dipping sauce
Glazed Spam/ pickled cucumber/ pineapple
Shrimp scampi with garlic chives
Huli huli chicken wonton tacos/dynamite sauce/broccoli  Chile/lime macaroons
Hawaiian dinner buffet:                                                                                                                                          Delicious Kalua pork
Plank grilled pineapple teriyaki salmon
Coconut rice
Thai sugarcane vinaigrette slaw with sesame and water chestnut
Green Salad with green and ripe papaya and chile guava dressing
Traditional island macaroni salad
Desserts: Traditional haupia with banana
Pina Colada Bread Pudding/ Rum Salted Caramel
Assorted Cookie Bar
I realized a sad truth during the party.  In all these years, I had never referred to her as G.  That's not like me and I'm disappointed in myself.  That is all.