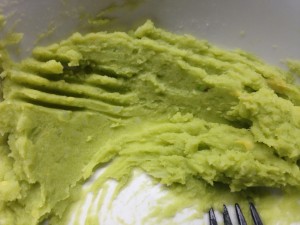 Avocado mashed potatoes are coming to a fish dish near you…if I'm cooking.
A healthy and perfectly balanced little side dish that I've been enjoying at my diner parties of late.  The recipe forces itself into stupid simplicity.  Cooked potatoes mashed with kosher salt and a scant 1/3 the amount of avocado…preferably Fuerte.  That's it.
Anything more, other then a few chives, takes away the purpose of the mixture; which is an avocado tasting mashed potato.  Also note the room temperature potatoes.  Hot avocado isn't something I love and it causes a loss of vibrancy when over heated.   Avocado can easily become something very expected and normal once you start adding ingredients.  Using it as the mashed potato fat with no other flavors allows the avocado to come through the perfectly textured potato.  Any more avocado and you get too close to guacamole As is the addition of lemon,  garlic or chile.
This is achiote halibut/avocado mash/baby lotus chimichurri