If you didn't already know, I'm a personal chef. My job as a personal chef consists of cooking for private dinner parties, teaching cooking classes and meal services.
I enjoy most aspects of my job for different reasons but my super-duper most favoritest ever, is wine or beer food pairings. I enjoy the direction and focus I'm forced into with the flavor profiles wine and beer provide.
My recent wine dinner was very involved and allowed me the pleasure of using a few expensive items that aren't usually in the budget.
Finally some pics :-)
I usually don't take pictures of my food during parties…I'm too focused on getting the food out perfect and hot…or cold; and of course making sure people are enjoying themselves.
This time I was lucky enough to snap a few off before they went out. Not all of them…and I failed with pics of the wine as well, but like I said, it's not my focus.
Why pair wine
If you've ever been to a wine pairing dinner then you know how much fun it is…when it's done right. If you haven't, then I highly recommend it as a way to enjoy wine like never before. The wine will heighten the food and the food will heighten the wine…hopefully…and hopefully you don't end up with a lame bottle. Not that that would be your fault, it just happens. But that mystery is a fun aspect to wine.
Ideally, it accentuates what that grape is capable of with its given environment…easier said then done that's for sure.
Some wine pairings will focus more on wine, giving small portions of something simple–like a piece of chocolate, or some good parmesano drizzled with aged balsamic and fresh cracked pepper. Those simple ingredients can completely change the way your palate registers that wine. Since I'm a chef and tend to be more food focused, I prepare mini entrees for each wine. How I go about each entree is determined by what the wine has to offer.
I ended up getting some great wine from John Alonge; the friendly and knowledgeable owner of the San Diego Wine and Culinary Center or, The Wine Heratic.
He introduced me to some wonderful California wines (2 from Ramona) and the prices were totally reasonable.
Bold flavors
Hors D'oeuvres:
Spanish salmagundi stuffed peeled loquat with coconut cheese
Foi gras stuffed roasted carrot with crispy apple-mint.
Not pictured is Buffalo mozzarella and marcona almond stuffed prosciutto wrapped date, grilled and dressed with lemon juice and olive oil
1st course (not pictured)–Ramona Valley-Kohill Winery, 2008 Estate Sauvignon Blanc.
Seared scallops with Fresh English peas, pea pod herb nage, citrus segments, and king crab croquettes…Picture fail, but it was beautiful.
2nd course- Russian River Chardonnay of some kind. Had nice citrus tropical notes with a hint of butter, French oak and crisp acidity. If I remember correctly it was mostly steel aged with only a month in French oak.
Achiote and coconut water braised pork belly with banana roasted mashed potatoes and citrus macerated cucumber and mango.
3rd course-2009 Clifford Bay Pinot Noir. Earthy, hint of truffle, supple tanins, fruit forward with cherry and plum. Also a nice crisp finish.
Ahi sashimi and roasted golden beet napoleon with butter lifted porcini broth, white cherry and blanched celery garnish tossed with red wine vinegar and white truffle oil.
4th course-Petite Syrah Edwards Vineyards…I think. Black cherry, bold and earthy, mellow tannins, soft structure with a small amount of oak.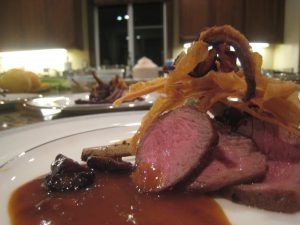 Roasted lamb loin and smokey roasted riblets with dried black cherry lamb reduction and shitake, parsnip chips
5th course-Cabernet Sauvignon, jeez I'm feeling buzzed just writing this. Classic wonderfully structured cab. Cabernet braised beef short ribs with rib jus reduction and handmade black truffle gnocchi, no picture :-(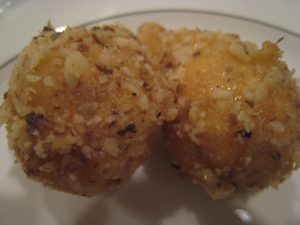 6th course- Sparkling cuvee from somewhere in Santa Barbara I think. Had some dry fruit rolling through with some yeast on the finish.
Loukamades with almond covered chocolate truffle (the truffle wasn't really planned but I figured I'd throw the chocolate lovers a bone). Lame pic :-|
So that was it. I left 6 people happy, full and drunk…sounds like great Saturday night to me :-)