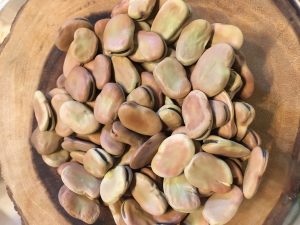 I was introduced to fresh fava beans by Chefs at Mr A's and I'd like to tell them, thank you. It took a friend hosting a friend from Taiwan who curiously purchased them to play with; but never got around to it. Then, months later the host was cleaning out his pantry in effort to streamline his new gluten free lifestyle. He brings me his box of "here ya go's", and I gladly accept. (Side note- my house is the dumping ground for random scraps or ingredients unknown.) Chickens get the scraps and I experiment or utilize the unknowns.
In this box
…was a bag of dried whole fava beans. I have been successfully avoiding whole dried favas since the first time I saw them 20 years ago at a Mediterranean market. But when I saw this random, lonely, forgotten bag. I saw it as a sign that now was the time to slay the bean.
Whole dried fava beans never seem worth the effort because they are not worth the effort. I mean, if that's your only bean…cool, it's good enough to enjoy. But shucking each bean is an extra step I like to reserve for fun and special foods that taste delicious, like a fresh fava. Now, if you purchase peeled and split dried fava's, it'll be faster and easier to process. But I'd still rather have the taste and texture of other beans, rather then a starchy mellow lima bean. I made a cumin and garlic flavored dip that was pleasant and filling enough to overcome the pleasure dome.
Recipe:
2c dried favas
salt
1/4c olive oil
1/4c sesame oil
1/4tsp chile flake
2T garlic
1 tsp ground cumin
2T lemon juice
2T minced parsley
Cover the beans with water by one inch and bring to a boil. Cover and turn off heat to let sit an hour. Strain and cover again with water and add a tsp or more of salt. Simmer for 2 hours, strain and keep some of the water. Shuck the beans and discard the soft shells. Heat half the olive oil with the chile flake, garlic and cumin. Once everything starts to bubble and fry, remove from the heat. Place the beans in a food processor with 2T of the reserved liquid and all other ingredients. Puree until smooth and season to taste, adding more liquid or oil if too tight.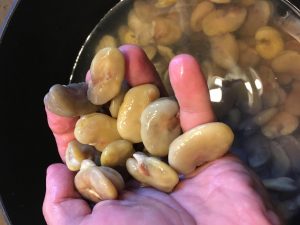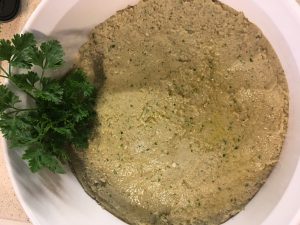 *Departed on a plane, not dead.