I friggin' love clam chowder. I love most soups, but this one tends to be my first soup of the new football–I mean, fall season.
Check out this rad poem In the Boston Evening Post from September 23,1751. This was the first printed recipe for a chowder. Makes me want to rhyme everything I say…well I just may…which makes me gay, but not like you think, I mean in a happy way…gigitty-ay.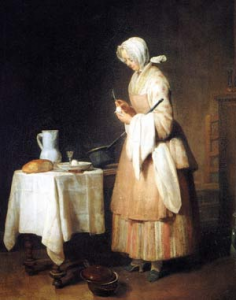 Firsay some Onions to keep the Pork from burning
Because in Chouder there can be not turning;
Then lay some Pork in slices very thin,
Thus you in Chouder always must begin.
Next lay some Fish cut crossways very nice
Then season well with Pepper, Salt, and Spice;
Parsley, Sweet-Marjoram, Savory, and Thyme,
Then Biscuit next which must be soak'd some Time.
Thus your Foundation laid, you will be able,
To raise a Chouder, high as Tower of Babel;
For by repeating o'er the Same again,
You make a Chouder for a thousand men.
Last a Bottle of Claret, with Water eno; to smother 'em,
You'll have a Mess which some call Omnium gather 'em.
This is about New England—clam—chowder, not the "soup" labeled from Manhattan that is nowhere near a chowder. Food nerd trivia–In the clip/link at the top, Ace is asked, "the red or the white?" Unbeknownst to him…there is no red New England Clam Chowder. I know, I know–my observational skills are staggering aren't they?
I love the dish for many epicureal reasons, but I swear, sometimes I think it's all in a name. How awesome is the word chowder. Say it. Now say it with a North Eastern accent. Hee heeee (I'm gonna name my next dog Chowdah.) Feelings of comfort and happiness are conjured with this word, but probably only if you've had a good bowl of it. I lived in the San Francisco Bay area for several years; while I was there I spent a little time in the city looking for "The Best Clam Chowder." Alas, my search was shortened by the disappointment of three consecutive LAME-O chowders. So, as the adage goes; "If you want something done right…better do it yourself."
Choices for the direction you want to steer your chowder are innumerable. Canned or fresh? Brothy or thick? Bacon or salt pork? Conformity to "tradition" or breaking the mold? Fatty Mcfat-fat cream or milk? The list goes on…
Here are two recipes; one with fresh clams, a few extra ingredients and a couple extra steps. The second is made with canned clams, one pot and less time. If cooking is not your thing, so what...do it…do it.
E-Z Clam Chowder
2 slices bacon, hacked up
1T butter (optional)
1/4c flour
1 medium onion, diced
2 stalks celery, diced
3 potatoes, peeled and diced small
1/2tsp dried thyme
4 6.5oz cans chopped clams in juice
1 bay leaf
2c heavy whipping cream
1/2 tsp dried dill
2tsp fresh chopped parsley *optional
Heat a pot over medium heat, add the bacon to render some fat and brown. Add the next five ingredients along with a pinch of salt and rind of fresh pepper. Saute until the onion is wilted, then stir in the flour and cook for a minute. Whisk in the chopped clams with juice being sure to smooth out any lumps of flour. Whisk in 2 cups of water and the cream, adding more of either as needed to cover by 2 inches. Bring to a boil, stir the bottom, then turn down to a simmer for 10 minutes or until the potatoes are cooked. Stir in the remaining ingredients to heat through; taste for seasoning and serve. Mash up some of the potato if you want it a bit thicker.
Fresh Clam Chowder
4 slices bacon, chopped
2T butter
1 onion, chopped
1 stalk celery, diced small
2 garlic cloves, minced
1 bay leaf
20-30 little neck clams, washed
4 sprigs fresh thyme
1c white wine
8oz bottled clam juice
3c water
2c heavy cream
2-3 medium russet or yukon potatoes, peeled and diced
Salt and fresh pepper
1 tsp dried dill
1-2 T chopped Italian parsley
Heat a large pot over medium heat and add the bacon. Cook until the bacon renders most of its fat and strain off all but 2 tablespoons. Add the butter, onion, garlic, bay and thyme; cook until the vegetables are wilted and soft, 8 minutes. Meanwhile; in a large pan, bring the wine to a boil. Add the clams, cover, and steam for 3-4 minutes. Strain off the juice and reserve, then remove the clam meat and throw away the shells(optional). Dust the sautéed vegetables with flour and stir to coat everything well. Whisk in the bottled clam juice until the flour is incorporated and smooth. Add the reserved clam broth, water, cream and the potato. Bring to a boil, cover, and boil hard for about 7 minutes or until the potatoes break down. Add in the chopped clams, parsley, dill and season with salt and pepper.
Really though, if you don't think you want to make one of the recipes, buy your favorite canned variety, add some dried dill and/or a little dried or fresh chopped parsley. Shake a little southern style hot sauce over the top and it'll be great, well…it might cure a craving at least. Canned clam chowders always leave alot to be desired and there are definitely some quirky differences between them. I recently did a little taste test comparison between four brands I picked up from a local grocer.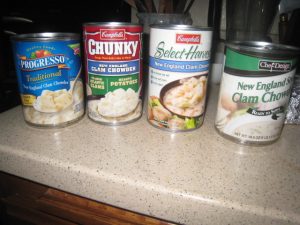 Progresso–
Thick, creamy, good amount of clam flavor, lotsa potatoes, no herbs, not off-putting. No MSG added is on the label but… it has yeast extract and hydrolized corn protien which are both msg. 1,780mg sodium, 18g fat and 360 calories.
Campbell's Chunky-
Thick and creamy with a decent amount of clam flavor, but it was also quite metallic. Lotsa potatoes, no herbs and except for the tinny flavor, there was nothing off putting. Has 2 forms of MSG but at least the label doesn't lie about it. 1,780mg sodium, 26g fat and 460 calories.
Campbell's Select Harvest–
Label looks healthy and reads: "With natural sea salt, Tender surf clams and no MSG added." Lol…it has 2 kinds of MSG and is reeeealy clamy (in a bad way). Lotsa potato, crazy amount of chewy (not tender) clams, visible parsley that was light and pleasant but had several bites with grit/sand. 960mg sodium, 20g fat and 360 calories
Chef Design (generic)-
So processed and fake tasting. Had the same texture and flavor of every horrible, overly processed creamy canned product ever. Had all the bad attributes with non of the good–except that it doesn't outwardly lie on the label like Harvest and Progresso.
1,700mg sodium, 22g fat and 420 calories
Overall, the first three will be edible with the addition of herbs and hot sauce but no kid would ever like the Harvest Select. 4th one was pretty much canned cancer.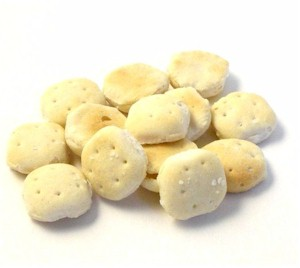 The potatoes are great, but don't forget the mandatory second carb to finish off your chowdah! Oyster crackers or saltines are great, but I would much rather have toasted, crusty sourdough bread as a dipper/soaker.
I don't know if the east coast uses bread or crackers…hopefully they've gotten out of the 1700's–taken note from San Francisco and tossed the crackers in place of crusty, warm, chewy sourdough. Mmmmm, double carbs.