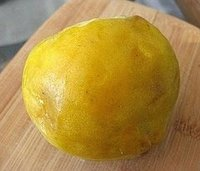 White Sapotes in early Spring, Loquats in late spring. Two wonderfully, deliciously juicy fruits I look forward to every year. They are the crown jewels of my spring fruit season and I don't have to do a thing to help them grow. I get my hands on these sumptuous treasures, not from the sweat of my brow while toiling away on weekends; but hijacking them from my neighbor…thanks neighbor. Not to worry, I'm not hopping fences and skulking around their yard at night. I'm following the same law that's been grandfathered down for generations and is told best by an ancient Chinese proverb; "it's on my side."
It's so good
Seriously though, it feels like a present when I eat these fruits. There is something very satisfying about it…a gratefulness not unlike when someone cooks you a yummy dinner and all you had to do was bring a bottle of wine.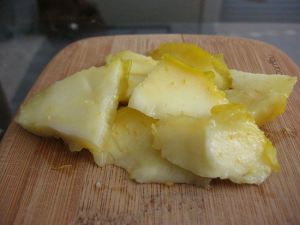 White Sapote, also known as Casimiroa is shaped like a peach but has a matted light green skin which turns yellow as it ripens. The pale yellow flesh surrounds 3-5 big seeds that unfortunately take up alot of prized real estate. They taste…sensual, like a cross between vanilla custard, pear, and a little bit of mellow sweet tomato. The skin is edible and thin but slightly bitter like a pear and a little disappointing.  It's hard to get the decadent middle without some peel. These guys are really messy as you navigate around the seeds, but I think that adds to their sensual quality. What is there to do after gettin' all messy but to get clean together. Think how sexy a perfect peach can be with the slurping and the licking and…whoa…sorry. Back on track here.

Go get 'em
They're great to add to smoothies, but I always just eat them raw in hand. One lame thing is: they have a relatively short shelf life because of the thin skins. Once they start to ripen they become really soft and if they fall off the tree, it's hard to grab them before the birds or mice get a bite. I guess that just makes them that much more rare and special. So, if your ever perusing an Asian or Mexican market, don't look at the price, just grab this fruit of love, (and a napkin), sit down and enjoy.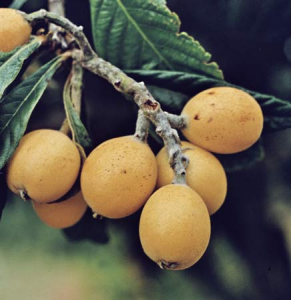 Loquats (not to be confused with Kumquat), are another seasonal marker my wife and I look forward to every year. Our neighborhood is speckled with the trees, so when we see this small orange fruit ripening, we know April is here. Looking like an egg shaped apricot, the flavor is a mix of pear, cherry and apricot. The skin is kinda bitter and it has three somewhat large seeds inside.
I'm the type of person that relishes the perfect bite, so to obtain that, I must peel. Eaten raw or put into jams, these little guys are versatile and delicious. The trees themselves tend to yield alot of fruit which is great, because they go fast.
If you aren't lucky enough to have accessible neighbor(ing) fruit, but you see 'em around; usually people won't mind you picking their fruit, just as long as you ask nicely.