Salmon is a rarity on my menus. It's a Tuesday night dinner item that many people cook for themselves. As a personal Chef in San Diego, it is my mission to give the diner something new. What better way to do something new, than to double or triple down on the classics; or the "assumed" knowns. This first entrée for a group of 8 is just that. Salmon, shrimp, chimichurri and polenta. All known classic items you see on menus everywhere. But if I can make your eyes roll backward with these seemingly pedantic recipes, then we are all winning.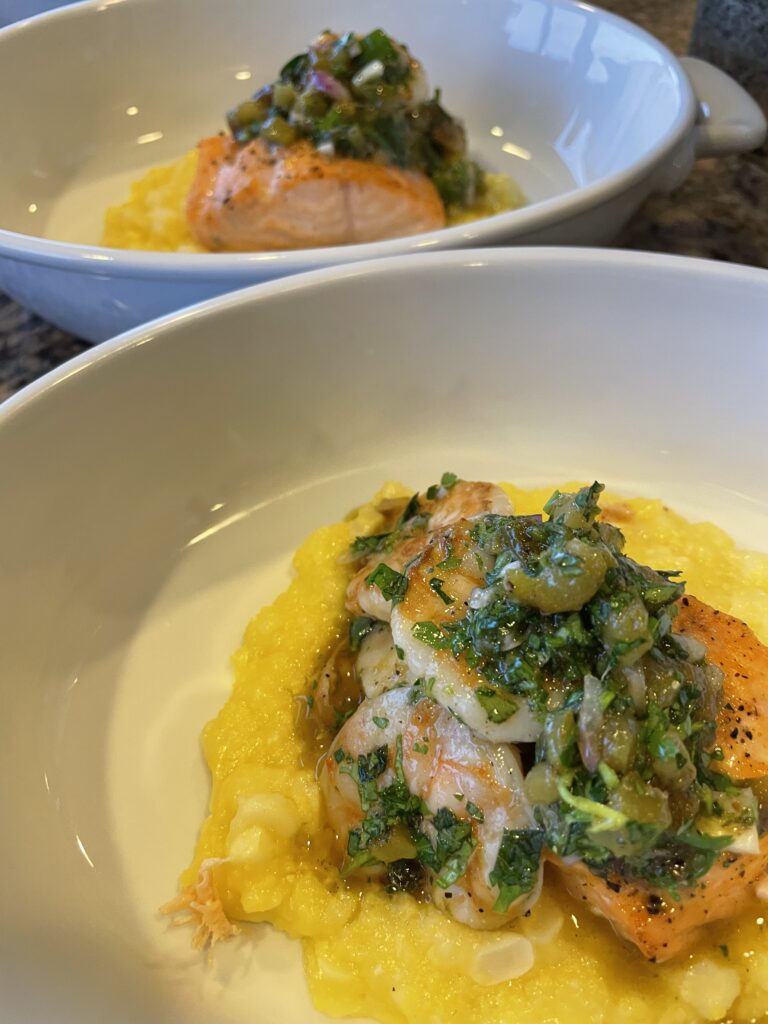 Attention to simplicity
All it takes to make food delicious is to cook it perfectly. A simple to understand rule but not always easily achieved. Lets take a look at polenta. Coarsely ground cornmeal cooked with water (and maybe some milk) with a pinch of salt until the cornmeal has softened. Then hit it with one or multiple dairy fats of your choice. Serve immediately or chill, slice and brown. But this polenta picture above is 90% fresh corn. Using fresh corn kicks up the bright summer vibe and adds diversion from the classic. Cooked, puréed, cooked again and hit with more corn and a solid hit of butter. It's marvelous.
Salmon follows the same rule as most fish; buy as fresh as possible and don't overcook. I usually broil most thick pieces of fish. Pan searing stinks up the house and grilled can be dicey in terms of sticking to the grate. Getting color on fish is also not always best for flavor. If I'm eating shrimp cold, I like it poached and chilled. Otherwise, I utilize the grill. Often marinated and usually brined, it's important to apply some char on marinated shrimp. (Any marinated protein for that matter.) That char is another layer that helps pull this dish into the summer spotlight as the shrimp are tossed into the chimichurri; allowing juices and maillard love to imbue. These attributes also focus regional flavors that can be expected from a San Diego personal Chef.
Not salsa verde
Chimichurri is common in restaurants, and for good reason. Herbs, chile, acidulation, pungent alliums and rich olive oil. But in most restaurants, it's usually the same green, purée akin to a Mexican verde sauce in terms of look and flavor, and is often underwhelming. My chimi is all done on the board with a knife, allowing layers of flavor to shine instead of muddling together into ambiguity.