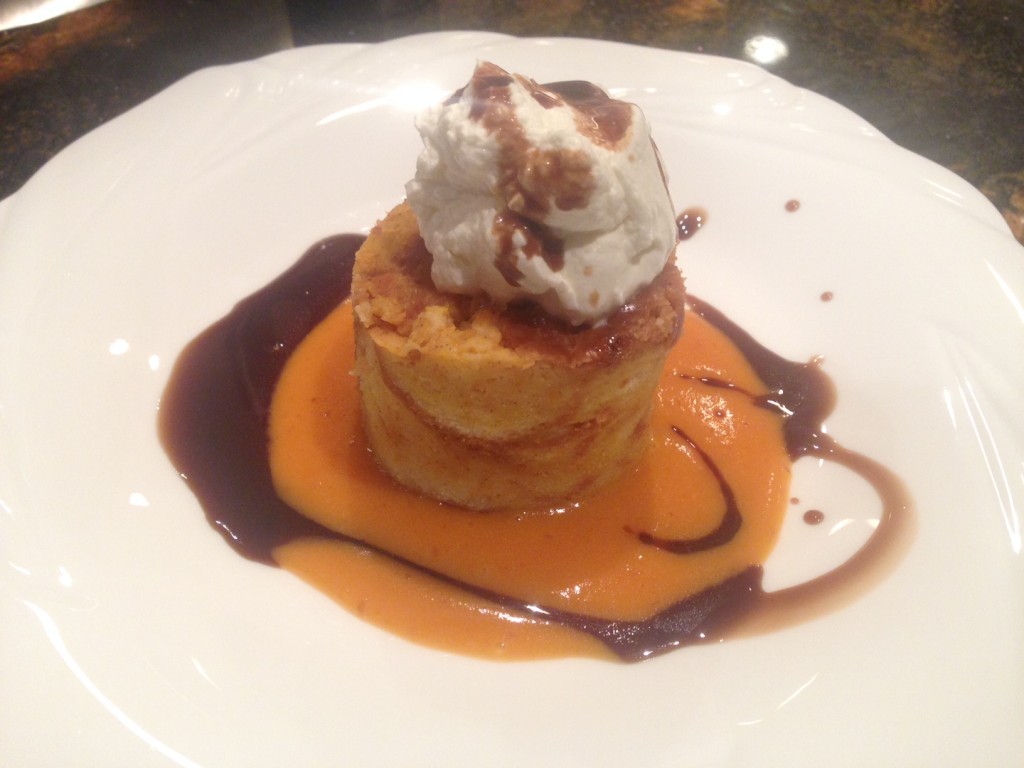 Bread pudding is a bit passé; but so what, so are alot of things. It became lazy and uninteresting because it was good and got beaten to death. As a brunch or dessert, it's a lovely fall/winter change of pace.
Keeping moisture while adding interest is the goal. Interest lies in your own tastes and desires, but moisture is the technical part. Too much bread is often the fatal mistake, as is too little fat. Same with holiday stuffing; after all, that's just a savory, slightly looser bread pudding right? This pumpkin version is a great way to incorporate that familiar holiday pumpkin flavor if you're pied out. If you're not into the Guinness syrup, use pecan caramel, or raspberry coulis and chocolate sauce…you get the idea.
Pumpkin Bread Pudding with
Pumpkin Butter and Guinness Syrup
4T butter
¾lb bread, torn up (French, Brioche, croissant, what'evs)
6 large eggs
3c whole milk
1 cup pumpkin puree (not pie filling)
¾c sugar
1T vanilla extract
½tsp cinnamon
In a large bowl, whisk everything together and pour over the bread. Toss to coat and let it soak in the fridge for an hour, stirring twice. Butter a 9" x 13" pan, pour in the mixture, cover with parchment and depress to compact. Bake at 350° for 45-60 minutes.
¼c maple syrup
2T pumpkin puree
1/8tsp powdered ginger
1/8tsp fresh ground nutmeg
½c salted butter
Boil syrup until reduced by half then whisk in the pumpkin, spices and butter.
1/2c brown sugar
1 bottle Guinness
Combine in a small pot over medium heat. Reduce by 3/4 or until syrupy with thick bubbles.