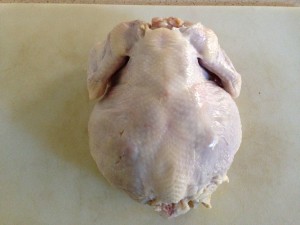 …dinner.
It is quite uncommon to cook a chicken dinner a whole lot for parties. It's often a work night meat that gets beat to death. Except for the occasional force meat or appetizer wings, it's a rare thing.  But for this party of 9 that had some dietary requests, it was time to make old, new again.  French cuisine is different than some cultures foods. It's artful techniques are refined to heighten texture and flavor…but delicately. Coaxingly. This somewhat complicated chicken dish is super rich and flavorful, but also eats clean and familiar.  No carbs because this party was hittin' the club train in an hour and a half. And we still had dessert to go.
This chicken dinner was for a bunch of rad ladies from Austin.  They were a Bachelorette party staying at the exact beach condo I cooked in for a Bachelorette party 6 months ago.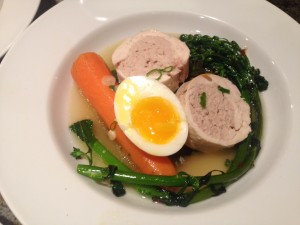 We were all having fun, so of course the picture was taken without the final garnish or final plate clean up but at least we got it.  As an important side note; this was done in a small kitchen with an electric stove top and accompanied by market driven hors d'oeuvres, 3 other courses and a plethora of frivolity.
Although the skin chip was missed in the picture, it was not missed on the plate. What is a skin chip? Think of a pork rind that is thin, crispy and made from chicken skin.
All for another night of different, layered and interesting food that no client had had before. Driven by the host's dietary requests, which is always a great avenue for inspiration. 
Update* This was the party where Venmo was used for the first time. A small detail that changed payments for the better for years to come.